Home
›
Scope's online community
Coffee lounge
Men's Health Week - How do we move forward?
Tori_Scope
Posts: 4,959
Scope community team
This week is
Men's Health Week
 (Men's Health Forum).
Everybody's mental health has been challenged by the lockdowns and insecurities of the last year and it's not over. As we emerge from what we hope will be the worst of the pandemic, questions, concerns and anxieties remain. Men's Health Week 2021 (14-20 June) asks: how do we move forward?
The 'CAN DO' Challenge
The
CAN DO Challenge
is a great way to boost your mental wellbeing.
The five ways to wellbeing are five things we can all do that are scientifically-proven to help us feel better. For the CAN DO Challenge, we're calling on everyone to choose a different way to wellbeing to try each day of Men's Health Week.​
The five ways are:
Connect - connect with other people (eg. call an old friend you haven't since before lockdown) #connectmonday
(Be) Active - move your body (eg. go for a run/walk/swim/dance/etc) #activetuesday
Notice - take notice of the environment around you (eg. turn off your phone for an hour) #noticewednesday
Discover - learn something new (eg. read a book you haven't read before) #discoverthursday
Offer (or give) - do something for someone else (eg. volunteer for a local community group) #offerfriday
You CAN DO it by yourself. Or with friends. CONNECT Monday is the perfect day to round up your friends for the rest of the week.

You CAN DO it for fun. Or you CAN DO it to fundraise.
Size Isn't Everything
The Men's Mental Health forum also have a
booklet
 on penis health
you can
download for free
 called 'Size Isn't Everything: penis health made easy', covering:
Size
Shape
Foreskins
Erections
Masturbation
Sex
Ejaculation
Sperm
Peeing
Testicles
It can be an embarrassing topic to talk about, but it's really important that you look after your physical health, as well as your mental health.
Coronavirus and Mental Health
Even before the pandemic, men's mental health was a cause for concern. There is a grave disparity in the high number of men who die from suicide and the low number of men who seek treatment for depression, anxiety and other mental health challenges.
Particular groups of male-dominated workforces have suffered disproportionately in terms of income and some (taxi drivers, for example) have received little support from government to compensate for this loss. Men are more likely to be in the sort of jobs that cannot easily be done from home with the result that many male-dominated workforces are also at 
greater risk
 from Covid-19. 
If you're struggling with your mental health and need someone to talk to right now, you can contact the following organisations:
Samaritans: call 116 123, or email [email protected] You don't have to be suicidal to get in touch, and they're there at all times to listen to you without judgement
SHOUT: text SHOUT to 85258 if you'd prefer to speak to a volunteer over text
CALM: call 0800 58 58 58 or use their live webchat
Other listening services are listed on Mind's website, and you can also find support local to you on the Hub of Hope.
Let's all talk
The Men's Mental Health Forum have also produced some posters for this Men's Health Week. I've put some of them below, and you can
see the others here
.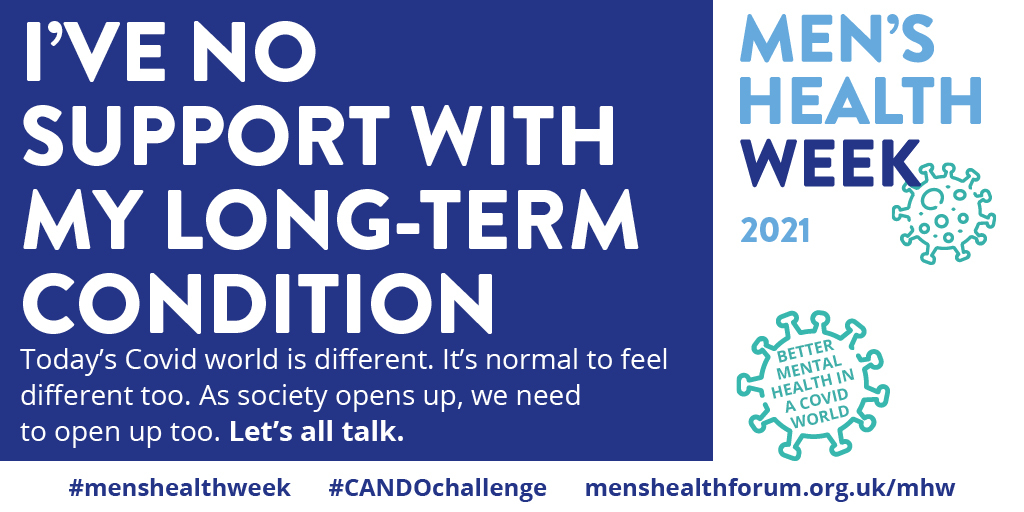 Will you be taking part in the CAN DO challenge? Has coronavirus impacted your physical or mental health? Is there anything you want to get off your chest?