National Gardening Week - can gardening improve our mental health?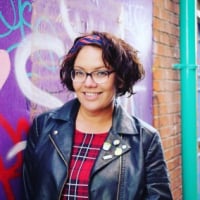 Sam_Alumni
Scope alumni
Posts: 7,674
Disability Gamechanger
It is National Gardening Week this week and it got me thinking about the benefits of gardening and how big a part of my life it has become.
I'll be honest, I never thought of myself as a gardener.  I spent a lot of time with my grandma as a child and she had a wonderful garden where I would sit and watch her work, though I was probably more of a hindrance than help as I just remember eating all the peas, strawberries and tomatoes straight from the plants.
I started growing my own veg when I had my own children, I always wanted them to know where food comes from! I remember asking my son's friends where he thought chips came from and he said "the freezer!" We didnt grow much but it was nice, outdoor family time when they were little and it helped them to have a better understanding of food.
I now have an allotment and I do it for myself.  I love being out there in the quiet, working hard and then sitting back and enjoying the views.  I have struggled with anxiety since having lots of surgeries and dealing with chronic illness and used to find myself really overwhelmed and panicky with the world.  I spoke to my hospital team and they suggested I found something to do that made me relaxed and happy, a hobby that took my mind away from the illness and operations I was facing.
My allotment is my sanctuary, no matter how bad my day, no matter how stressed or bothered I am, a couple of hours up there makes it all drift away and I feel a huge sense of relief, calm and happiness.  There are times when I am not physically able to do the hard work, so I have a little chair in my greenhouse so I can pot plants and sew seeds and I have a big cushion that I use to sit on the ground and plant.  It is really important to me that I don't ruin my nice times in the allotment by putting pressure on myself about it and turning it into a chore, so if I can't dig the potatoes in one week, I let it slide or ask for some help! (It's amazing what the gift of a bottle of beer can get my husband to do!) 
Being outdoors in underrated, just sitting in the sunshine (or more likely cloud!) does wonders for you and the act of growing, making or creating just clears my mind and makes me feel so much better. The joy of feeding my family something that I have grown from a tiny seed into a meal is immeasurable, honestly if you ever see me digging my potatoes up you'd think I'd just struck gold from the ridiculous grin on my face! 
I read about Ecotherapy on the MIND website and realised that this is
what I am doing for myself
!  
Ecotherapy
is is the name given to a wide range of treatment programmes which aim to improve your mental and physical wellbeing through doing outdoor activities in nature. Connecting with nature in this way can have lots of positive 
health benefits
.
This year I decided to make my allotment into a more communal space, I have also made it more accessible for myself by adding raised beds and wider paths that are covered in underlay and bark chippings.  I'm putting a little seating area in and a fire pit and I have heady plans after watching a youtube video to build my own pizza oven!  It has become my favourite hobby and something that I am proud of.
Believe me, 20 years ago I would have scoffed at the idea of myself loving gardening, I thought it was something that just pensioners did, but now it is one of the greatest pleasures in my week and I definitely feel that it has helped my recovery both physically and emotionally.
Do you garden? Does it help you? Do you have any gardening or allotment tips? Let us know.
Scope
Senior online community officer
Comments
Brightness
Categories
12.1K

Talk about your situation

21.7K

Talk about money

4.1K

Talk about your impairment