When your children are young carers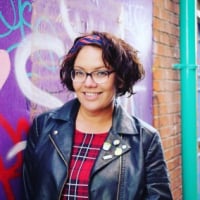 Sam_Alumni
Scope alumni
Posts: 7,674
Disability Gamechanger
This week we are talking about Young Carers, if you are interested in finding out more about the support available in your area, take a look at
Carers Trust.
  I blog about my illness at
So Bad Ass
talking about life with chronic illness, IBD, an ostomy and invisible impairments.
I was diagnosed with Ulcerative Colitis in 2004, it's a long term, chronic and debilitating illness that causes pain, bleeding, diarrhoea and many other symptoms, and so my kids don't remember a mum who was ever not ill.
In 2013 I started having surgeries for my condition, I had my large intestine removed and an ileostomy formed.  I have had 5 operations in the past four years and it is likely I will need more.  Each of these surgeries have required weeks in hospital and months in recovery and so my family life has changed massively and I have needed so much support from my family, including my kids.
I feel really guilty when I think about my kids as young carers, it worries me about what effect my illness will have on them as people and I feel sad about the stress and pressure that is put on them when I am very unwell.
When we think about young carers, we might think about a child or young person who is doing a lot of physical care for a person.  Yet though my kids do have to do more around the home, they have to pull their weight, they do make me cups of tea, hot water bottles and will help me out with chores and whatever is needed, I think the biggest pressure for them is the emotional side.
Being chronically ill is hard work, I have extreme fatigue and many days I cannot manage to get out of bed.  I am extremely lucky to work for Scope who support me fully and I work from home, I couldn't do my job if I had to go to an office every day, but the ability to work from home opens up the world of work to me.  
Most days, the exhaustion and joint pain are debilitating, I have a permanent ostomy bag and so I have to deal with the consequences of not having a colon, the leaks, the bag emptying and changing, the pain, and the emotional impact that has on you. And this is what my kids see every day, and that makes me feel really sad.
They expect to see me in bed, they expect that I will be too tired to do things with them, they accept when our plans change at the last minute because I'm not well enough.  They see me in and out of hospital and I know it scares them, they get upset if I go to hospital for a check up as they are frightened I won't come out for weeks.
But you know what? They are more empathetic, open, caring and loving.  They have an understanding of illness and disability far beyond their friends and they have had to learn compromise.  I do believe that their lives growing up with a mum who has a chronic illness has made them into kinder and better people.
I have always tried to be honest with them, I think that when we try to protect kids from the truth, it can backfire.  They know more than we think and if they don't have the facts, they tend to make up their own conclusions which can be much scarier.  
There are times when I wish I could be out riding bikes with the kids, or running about a laser quest but we have our own special times, they know I am there to listen and love, they come and lay in my bed with me, sometimes watching a movie, sometimes to talk and sometimes they just bring their laptops or books and we just sit quietly doing our own things but being together.
Being a good mum is the most important thing to me, and I have had to rethink what a good mum is, I can't physically be there for them all the time, I am not the one who gets them up in the morning, their dad often cooks tea and does the taxiing about, but I can be there for them 100 % emotionally, I can tell them every single day that I love them, that they are awesome and wonderful.  I can appreciate them as my children and also as young carers and I am truly grateful to have three such amazing humans in my life.
Are you a disabled parent? How does it make you feel? Tell us about your relationship with disability and parenting.
Scope
Senior online community officer
Comments
Brightness
Categories
12.1K

Talk about your situation

21.7K

Talk about money

4.1K

Talk about your impairment