Home
›
Scope's online community
Disabled people
Dementia Action Week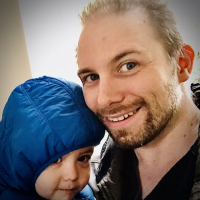 Adrian_Scope
Testing team
Posts: 7,997
Scope community team
At the start of 2014, Howard began to notice changes which he put down to turning 50. It wasn't until he saw a Panorama programme about Chris Roberts and his family in June 2016, that alarm bells rang, and he went to his GP. Despite getting lost around the hospital he worked at, losing track of days and time, and forgetting regular tasks, it took until March 2017 before he was diagnosed with Alzheimer's and Frontotemporal Dementia.
On that day, he was given two leaflets, told he could no longer drive and to go home and put his affairs in order. After leaving the room with his wife, he received no further support from the NHS or his local authority. 6 months later, Howard got the bus to work as usual, but when he got off in town, he stood at the bus stop, not knowing where he was, or where he was going. He didn't know how long he was stood there before he figured out where he was supposed to be going, but it was the last time he ever went to work.
Without any NHS support, Howard became very depressed and it was only through Twitter that he found a ray of light — a post-diagnosis support course in York. Unfortunately, this meant taking a 130-mile round-trip once a week every five weeks. After attending the course in York, Howard finally connected with the Alzheimer's Society and things began to change. He began to live within the limits of his diagnosis and started to represent a range of organisations, including the Alzheimer's Society 3 Nations Dementia Working Group Steering Group. He has attended the Global Disability Summit in London, the European Commission in Brussels, has helped to set up a Young Onset Dementia Support Group in Sheffield, he has spoken at many events, sometimes challenging the lack of representation of people living with Dementia, has a Facebook Support Group and writes a blog.
Had he had post-diagnosis support, services, assessments and rehabilitation, maybe he would still be working. As it is, with the support of his peers, family and others, Howard is living with his diagnosis and trying, for as long as he can and trying to show there is a life to lead after a diagnosis of Dementia and change perceptions.
As part of Dementia Action Week, the Alzheimer's Society is encouraging everyone to take action by starting a conversation with someone living with dementia they know; whether it's calling a relative with dementia or visiting a neighbour, it's time to start talking.
Have you got lived experience of Alzheimer's? How would you change the perceptions of the disease?
Senior Community Partner
Scope