Empowering and supporting people affected by chronic pain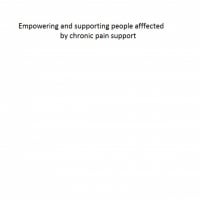 ncps
Member
Posts: 30
Courageous
My name is Louise, I run Northamptonshire Chronic Pain Support, I support people affected by chronic pain, including family members as well as carers. I set up NCPS in January 2018 due to there being a lack of support for people who have undiagnosed pain in Northamptonshire. There are a few groups for people who have been diagnosed with things like arthritis and fibromyalgia but it is possible to have pain that affects your life and no medical reason. There is a lot of research into this at the moment but in the meantime people's lives are on hold as they feel judge, unsupported and scared for the future.

I have had chronic pain for a number of years, I found I was stuck in a cycle of grief, for the person I used to be and the life I used to have. Nothing on the outside has changed but inside I felt I was facing a constant battle both physically and mentally.
I could no longer do the simple things we all take for granted such as getting out of bed, washing, going to the toilet. Can you imagine going from your independent self, so being able to just get up out of bed, get washed and dressed, have breakfast, go to work and come home. To suddenly not being able to the energy to get out of bed, every joint hurting and physically stiff?
I faced a constant battle of guilt over things, like not being able to work but also being at home all day unable to cook a meal or even do a little housework, my partner was extremely understanding but it didn't matter what they said I felt a waste of time, a mess and impossible to love, they had been at work all day and I had done nothing.
​I slowly slipped away from living into existing, with ease and without really even knowing it. I became isolated and stuck in a rut that, if I'm honest, I wasn't even trying to get out of as I thought that is what life had to be like, That I had no option but to 'suffer' from chronic pain for the rest of my life.
I was left emptied of hope and filled with pills, left to get on with it. I was not offered any emotional support and I was never asked my opinion on anything to do with my treatment.
​For 2 years, I had allowed the pain to rob me of my friends and hobbies, but even worse I became so consumed by the pain that I had forgotten all about loving my partner. Now I look back I realise the worst thing was, I missed out on valuable time with the people I loved and this hit me very hard when I had a death in the family.
​​I made the choice to change my outlook of my situation, nothing has changed physically, if anything I am weaker, however I have managed to combat the thoughts that constantly caused me to doubt my ability I have taken time to understand and accept myself for the person I am now, not who I used to be and I have worked on becoming grateful for what I have and that right now that is all that I need.
I had been attending a small group monthly that was held by the charity away with pain. In January 2018 I relaunched these meetings under the heading of Northamptonshire chronic pain support (NCPS). I had found that just being in a room with other people who had chronic pain really helped. It is so powerful, to know you are not alone, not being judged and that your pain is valid.
I now hold meetings all over Northants, I use my experience of chronic pain and the experience of others to help people who do not have chronic pain understand what it is like to live with chronic pain. I support the carers who do a fantastic but sadly go unnoticed, they need support, and they are affected just as much by chronic pain as the person who has it. I use my knowledge of both cognitive behaviour therapy (CBT) and living in a mindful way to delivered in a positive way that you can have a life with chronic pain and you do not have to 'suffer' from it.
I hold a monthly meeting in Kettering Corn Market Hall every first Thursday of the month between 7-9pm. Anyone regardless of diagnosis is welcome to make contact or indeed someone who supports people with chronic pain. I have also created a Facebook page which I try to keep this site full of positive and helpful information about things that help such as equipment, local social events and also factual information about chronic pain.
For further information please contact me on [email protected] or through the website www.ncpsuk.co.uk.
Do you live with chronic pain? Are you in touch with any groups yourself? Have you found support groups to be useful?
Lou
Northants chronic pain support
www.ncpsuk.com
Comments
Brightness
Categories
12K

Talk about your situation

21.2K

Talk about money

4K

Talk about your impairment