If we become concerned about you or anyone else while using one of our services, we will act in line with our safeguarding policy and procedures. This may involve sharing this information with relevant authorities to ensure we comply with our policies and legal obligations.
Find out how to let us know if you're
concerned about another member's safety.
My Jaw and Me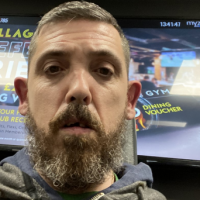 As part of Cerebral Palsy Awareness month, people with lived experience of CP are giving us an insight into an aspect of their lives or an effect of CP that isn't commonly talked about.Heidi Buckell writes the blog A to Z of disability which can be found at
www.beawarebeclear.org
My Jaw and Me!
I wanted to share with you some problems which I have been having with my jaw. When these problems began, I would have really valued reading another person's experience but despite Googling 'Cerebral Palsy and Jaw Problems', I could not find any information. There is plenty of information for children with CP but not much for adults so if reading my story can help someone else then I will be very pleased indeed.
Firstly, a little bit of background, I have Spastic Athetoid Cerebral Palsy which affects my movements and my speech. I find it difficult to describe in words the extent of my speech impediment as I am fully aware that people with speech impediments vary significantly in terms of how clearly they can be understood. I often say that I am in the middle of the range. I definitely have many problems with my speech and people will avoid talking to me as they do not think they will understand me. Other times people will understand the vast majority of what I say, especially if they know me quite well. I am 41 years old and enjoy living independently with help and support from my parents and I try not to let my disability stop me from enjoying a full life.
I know what I am about to say will make people laugh but due to my love of 'trying' to sing! I decided to join a choir and I absolutely loved it. I remember emailing the choir mistress and saying I know this is a silly question, as I have a speech impediment, but could I possibly come along one evening. To my amazement, she replied and said that I would be very welcome to go to a rehearsal to see what it was like. As there were approx. 200 people, my speech impediment did not matter and it was very informal. I got the feeling that people went in order to have a fun evening out but with the purpose of learning new songs which they could then 'perform,' at concerts if they wanted. Some evenings when I went, I was feeling fed up and stressed but after I had finished the rehearsal my mood had significantly lifted. I was blown away by how included the members made me feel. So often with my disability, I am made to feel excluded but this was further than the truth at choir. I was also welcomed to take part in any concerts which and I was even allowed to sit down when everyone else was expected to stand up and sing. If there is such a thing as a 'Rock Choir Bug' then I well and truly caught it. I was enjoying my time with the choir so much, and my social life was getting a boost!
After about 4 months of being in the choir I begun to notice that my jaw was locking in the mornings, it was a little annoying but I did not see it as being a major problem as once I opened my mouth a few times it did not lock again during the day. Having been in the choir for over a year, it was becoming a little more of a problem for me and it was beginning to lock intermittently throughout the day. After consulting with my dentist, she recommended me to see a Chiropractic which I did and after he spent time with me and looked at the movements of my jaw, he did not feel that he would be able to help me. As time went on my jaw was getting increasingly worse, I was now getting pain when I ate or when I yawned. I also noticed that, whereas my right jaw was the problem originally the pain was in my left jaw. My dentist was brilliant and after wracking her brains as to whether there was anything which she could do to help she made me a mouth guard to wear at night.
Due to it now causing me significant problems, I asked to be referred to the Oral Max Facial department in my local hospital. It was only now that I was beginning to wonder whether my singing in a choir was causing the problems. At my Oral Max appointment, they did not seem to jump to the conclusion that it was the choir but we both agreed that it would be a good idea for me to stop going. They also recommended that I went on a soft diet, obviously hoping that doing these things would prevent it from getting worse. I followed the order of a soft diet to the letter, unfortunately, it
coincided with Christmas and having a Christmas dinner which had been through a liquidiser is not something which I would recommend. Mum also liquidised my roast dinners – these were fine but I think with all the extra trimmings which you have at Christmas it just did not work. Unfortunately, the soft diet and me stopping choir did not help as the pain just seemed to get worse. I obviously did not go back to the choir but the doctor said not to be so strict on the 'soft diet' so I ate normally again all be it having to have my food cut up into very small pieces. I was taking pain killers which were bittersweet - they significantly helped with the pain but due to them also being a form of an anti-depressant I needed to stop my existing anti-depressants. As another bit of background knowledge, the anti-depressants which I am on are a relatively low dose and the best way in which I can describe them is as them being a cushion. I wouldn't say I suffered from depression to a large extent but I think, as most people with Cerebral Palsy would agree, life is not always easy with people's attitudes as well as the amount of energy needed to live with a disability. A cushion is therefore probably a good way of describing the benefit I get from taking them. When I had to stop them in order to take the necessary pain killers for my jaw I realised how much I benefited from them and I have therefore begun to struggle with my mood.
I then went through quite a good period as my doctor prescribed me some different tablets for pain relief which meant I could restart my anti-depressants. After being on these for a year and a half I decided to stop them as I was wondering whether they were suppressing my appetite and also I wondered whether the pain had miraculously decreased. I'm glad that I did stop them as I realised that the pain had indeed gone!
As time went on, I began finding it difficult to eat, for example, eating a pizza took me well over an hour, there was no pain but taking this long to eat it took all the pleasure out. Due to the Oral Max team not really being able to help me, they referred me to the Orthodontics Department. At my Orthodontic appointment, they confirmed what I had thought had happened. Due to my jaw having moved, my teeth no longer met together and I therefore now have a Class 2 Anterior Open Bite which explained why eating a pizza was so difficult!
Treatment was the next thing which we discussed and replacing both of my jaw joints was the only option. The consultant who I was seeing was very experienced – he was the only surgeon in the South of England who does this operation but he was not willing to do this operation on me. Due to my Cerebral Palsy, he said that the risk of paralysis was too great for him to consider operating. As Mum and I came out of the consultation we were obviously bitterly disappointed but we were satisfied with the consultant's decision and we, therefore, did not feel the need to seek a 2nd opinion.
Having a jaw deformity is impacting my life, especially my eating, having to think twice about what I can eat easily and what would be too much of a struggle for me to eat. I also find it is making my speech more difficult as there are times when my jaw just seems to get in the way.'
I am a firm believer in turning negatives into positives and this is exactly why I wanted to share my story and my main message would be if you notice your jaw beginning to click, review what you are doing and seek advice early. No one has directly linked my jaw deformity to my singing in a choir but I am sure this is what caused it. As I was enjoying my time with the choir so much I didn't realise how much of a strain I was putting onto my jaw. I wouldn't want to deprive anybody of the lovely feeling of being in a choir which made you feel so welcome but I would say to be mindful of my problems and do not do too much!
ScopeSpecialist Information Officer and Cerebral Palsy Programme Lead

Want to tell us about your experience in the community?
Talk to our
chatbot
and let us know.
Brightness
Categories
12.3K

Talk about your situation

22.4K

Talk about money

4.2K

Talk about your impairment