Short Shorty competition chance getting turned in aduiobook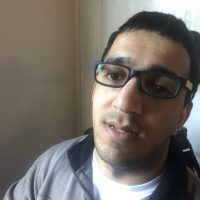 Globster
Community Co-Production Group, CP Network
Posts: 966
Pioneering
   Changing mindsets 
A young man called Jay was born with cerebral palsy. He used to cry every night. He didn't know what he wanted to do in his life. Every week his family members used to sit down with Jay to see if he had thought about what he wanted to do in life.  
After months of trying and failing at different things, he started to get frustrated and became negative when trying different things because he was scared of failure.  
One day Jay was watching a YouTube motivational video that said to him that failures are all part of the learning journey before you find your passion in life. 
This seemed to reinvigorate him to begin the journey to find his passion again.  
Then the following week he met his friend called David who invited him to join the creative writing group he was attending. Jay was a bit apprehensive to start with.
As the week went by Jay started to write his own poetry. The barrier Jay had been putting in front of himself for why he could not achieve anything in his life seemed to slowly be coming down through his poetry. Writing had brought a smile to Jay's face as he got a real taste for poetry writing.  
Jay worked hard each day to improve in poetry writing as he loved rhyming words together.   He spent many months working hard to improve his skills in poetry.  
He felt his confidence grow with each day.  His poetry covered a variety of topics. Jay was even forthcoming with sharing his poetry work with the creative writing group who loved listening to some of Jay's poetry with the hidden messages in his creations.  
Using his talent for writing gave him an idea to set up his own YouTube channel for his spoken poetry videos. It took many months for him to get his confidence to speak in front of the camera. He worked hard to perfect his video skills. 
After several months he was finally ready to create videos of spoken words. He knew it was going to be a lot of hard work before his YouTube channel was able to flourish if only because he was light on videos.  He got so many positive comments on his spoken poetry videos and followers grew on his YouTube channel. It was simply short on quantity. 
A few months later he was about to see that his channel started making money. He was not going to use the money he made for private gain.
After a great deal of thought, he decided to use the money to create his own poetry foundation. The poetry foundation would be very welcoming and inclusive to all poets with any disabilities and social backgrounds where all would be made welcome.   He felt it was the right time to use his poetry writing to help others to find their poetry writing voices. Jay said, "I know how hard it is to express your feelings and emotions through speaking."  
A few months later he made the amount of money he needed to set up his poetry foundation. The foundation had also built facilities to accommodate potential students.He had a gleeful smile on his face to see the outstanding, modern building. 
There were so many young people with disabilities and others from different social backgrounds and socialites and young people from poor backgrounds as well.
They were looking for Jay to help them develop from young poets onto bigger and better things through the use of poetry. He saw the joy when the young poets finally succeeded in reading out their poetry. 
There were so many talents emerging from Jay's poetry writing foundation.  These were some of the positive comments from the foundation. 
Sarah was a young woman whose sight was lost from birth but this did not stop Sarah from finding her poetic voice through her use of English & Braille. Thanks to the help that Jay gave to Sarah, she found her voice through poetry.
There was a young man called Simion who came from a poor background. Simion says my poetry writing has helped me write about experiences of not having anything to eat and sharing one bedroom with 3 brothers. 
The poetry foundation seemed to open many doors for anyone who was looking to gain the skills and knowledge of the art of poetry writing.  He was always happy to help anyone, who was looking to take their poetry writing to the next level and it didn't matter if you were a complete novice or at a higher level in your career. 
Jay knew that some of the people that had joined his foundation had 'butterflies in their stomachs' like anybody who was attempting anything for the first time.   
His poetry foundation had brought a real sense of inclusion to a diverse community which Jay's poetry writing foundation gave to people who sometimes faced the same difficult situations Jay faced when he first started his writing career. He was terrified of failing when he wrote his first-ever poem on his own. 
We all have a hidden voice inside us. We just have to use the blank pages as our canvases to express our feelings and emotions that have been bubbling inside us for so long, waiting to come to us. 
Jay feels his poetry writing is a powerful tool to bring change to people's thoughts and feelings about a variety of subjects. Jay has one piece of advice. It is important never to get disheartened. 
If you don't quite get your poem right the first time it is about brushing yourself down and keeping focused on taking small steps to achieve your big goal in the end. 
It is important for you to keep writing your poetry every day if you want to become a better poet.  Jay says, "I have found a passion for writing that can open many doors for me. I would like to say thank my family and friends for their support.
Comments
Brightness
Categories
11.5K

Talk about your situation

19.5K

Talk about money

3.6K

Talk about your impairment