Longish Post... Honest Advice Please?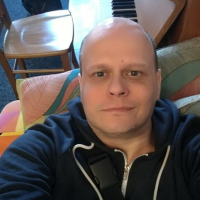 Hia Folks
Would just like some honest opinions please on the following. I will keep it as short but it may drag on....
There are occasions in my life when everything goes against me. This has happened several times in the past, but it is becoming more often now.
Is this something related to Depression?
I am unfortunately a loner  and always will be.
In the last 18 months I got to a pub for a drink of beer. Sometimes I have one, other days like today I have had three. Once I am in this pub I hardly speak to anyone. I speak if I am spoke to but this is hard work, all I do is waffle.
There are certain people in this pub, I don't like, but I keep myself to myself.
Occasionally I get, presuming because I am quiet the occasional cutting remark. 
Nothing real bad, or I had a woman shout to me...Sit over there! When I wanted to sit near her. It was spite. Nothing else
The Barmaid mentioned and noted the way I she spoke to me.
I am genuinely a decent bloke. Treat me with respect and you'll get the same back.
There is this bloke, who is a heavy drinker.
About ten years ago he was talking to me and asked if I had a brother or sister? Brother I replied "Is he like you a Wnkr?
Now ever since that comment I have never got on with him. I cannot stand him. He or anyone can call me a W  but when it comes to my brother. That's a different story.
This morning I had a drink  and unsurprisingly I was on my own. But at the bloke I just mentioned favourite table.
I had plenty of room to my left hand side. But there was limited space to my right. He sat next to me. Right hand side. Looked at me and muttered something... I took no notice.
I then was invited for a game of Pool. About fifty mins later I finished several games of Pool. I went back to where I was sitting prior.
Nobody was sitting there.
A short while later he came back from outside  a smoking session. He sat next to me.
He then piped up why do you always sit by me? 
I replied by what have you got against me?
He muttered Covid for a start.
Don't start he said  i ain't in the mood.
I leaned over to him and quietly said. 
Neither am I Pal. Neither am I!
He then moved to another table.
He then left.
Now I also don't get on with certain number of my neighbours. For over thirty years they have spoke treated me like ****. 
Bullied to put it more politely. 
I had to get the Police involved years ago, this because the H.Assoc. were useless.
That was sorted after over ten years of complaining.
Right enough of my moaning...
I am a very, very negative person. 
I cannot get out of this negative pattern.
I feel like a plank asking this...
Do people give off vibes, like with me negative ones and does this affect how people perceive me treat me?
It's like I stink of ****. And no one likes to be in my company.
I need honest answers, as in the saying you have to be cruel to be kind.
Thank you Folks👍
Comments
Brightness
Categories
11.5K

Talk about your situation

19.4K

Talk about money

3.6K

Talk about your impairment