Accessible toilets at festivals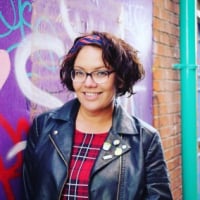 Sam_Alumni
Scope alumni
Posts: 7,674
Disability Gamechanger
I'm went to Glastonbury last week and had a wonderful time though I was worried about dealing with my impairment at such a busy festival. Unfortunately I had a bit of any issue using an accessible toilet and thought I would share my experience.
After a lovely day, we went up to the stone circle to watch the fireworks, my ileostomy bag suddenly filled fast, we walked away in search of a toilet as I was concerned my bag was going to leak. We saw an accessible portaloo guarded by a staff member who saw me and said "this is for disabled people". 
He asked if I was staying in 'disabled camping' and I said no. He said "you know these toilets aren't for anyone other than disabled people right?" I said "yes I do, do you want me to tell you what my disability is?"
My husband said "you know that it's not just wheelchair users don't you?" My son pointed at the sign on the door that said "'Not all disabilities are visible" and the staff member said "lots of people might try and take advantage!" 
He eventually let me in and it was vile. There was human waste everywhere and it was pitch black. I had to ask my husband to come in and hold a torch whilst I sorted my bag out. We came out to the staff member complaining to other staff that people who weren't in disabled camping shouldn't be using the loos. I was mortified.
My husband went up and asked if there was a problem, he pointed out the sign and told them I had a disability and just because I wasn't in a wheelchair didn't mean I didn't have extra needs. That we weren't in disabled camping as he is staff so were in a staff campsite. They said they have to protect the loos from people who just want to use them.
Eventually another staff member said "do you have a colostomy bag?" I said yes ( then wasn't the time to split hairs!) and he explained that I could speak to our contact and get a wristband and also gave me the door code.
I've had to speak to a group of 6 people then another 2 to get use a toilet. It's embarrassing and humiliating. If I'd gone up in a wheelchair and not had a wristband they would not have treated me like that.
And to have a guarded, locked toilet that was so disgusting is ridiculous. Having a larger cubicle does not an accessible toilet make. A wheelchair user would have struggled massively to transfer themselves to that loo as it was filled to the brim and the sides were covered in human waste. It was so dark in there that I couldn't see a thing and needed someone to come and hold a torch! 
I've been going to festivals for the past 20 years, I know what toilets are like, I'm no princess and totally get that they're usually vile. But if you're guarding and locking a loo and making such a fuss about protection of disabled people, perhaps make that toilet truly accessible. We can and should do MUCH better than this.
In hindsight, I should have arranged my access needs before we got there, I found out that you can apply for a disability wristband prior to the festival by sending proof of your impairment.  I understand that it's a tricky line to get right, but I also wonder how this system works for people with chronic illnesses and invisible disabilities.
It is hard to know that the basic needs of toileting become a group discussion when you are a disabled person, I understand that they want to ensure that accessible toilets don't get misused but this system means having to disclose your impairment to laypeople who have no medical training so they can make a decision whether you can use a toilet or not.
What should an accessible toilet look like? How can we create a system that is fair to everyone? I would love to know your thoughts.
Scope
Senior online community officer
Comments
Brightness
Categories
12.1K

Talk about your situation

21.7K

Talk about money

4.1K

Talk about your impairment