To the woman who tutted at me for using an accessible toilet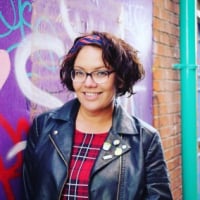 Sam_Alumni
Scope alumni
Posts: 7,676
Disability Gamechanger
I run a blog called So Bad Ass about life with Inflammatory Bowel Disease and an ostomy bag and how it feels to live with this illness, surgeries, medications and recovery. In February 2015, the blog went viral when I wrote an open letter to the woman who tutted at me for using accessible toilets.
In this raw, passionate letter, I let out my hurt and anger of being judged by strangers. Over the past few years I have, on occasion, needed to use the accessible toilets.

And as our theme for the next two weeks is around toilets, I thought I would take a look back on this event as unfortunately, I don't feel that things are getting any better.  You can read part of the letter below and check out the original post here.
Dear lady who loudly tutted at me using the accessible loos,
I know you saw me running in, with my able bodied legs and all. You saw me opening the door with my two working arms. You saw me without a wheelchair. Without any visible sign of disability.
You tutted loudly as I rattled the handle with my hands that work perfectly and my able voice call to my kids that I'd be out in just a minute.
My lack of wheelchair may have suggested to you that I was some lazy cow who didn't care. Some inconsiderate b***h who was using something I wasn't entitled too. (I actually carry a card to explain that I'm entitled to and have a disability key if you'd have cared to ask). You may have seen my face blushing as I caught your eye and assumed I was showing guilt at blagging the accessible loos.
The fact is that I have no bowel. I sometimes have accidents which means a large toilet that has a sink right by me means I can clean myself up when things go awry.
Whilst I'm at it, I'd like to address the cleaner in the supermarket ladies toilets I used this week. As I ran in, knees together, bursting through the door and running to the cubicle, I'm sorry that the noise of my (lack of) bowels made you burst out laughing.
I can actually take the sniggering as since I had a pouch made from my small intestine because my disease ridden colon was removed during surgery, the noise I make when I defecate is hilariously loud. Seriously, I get it. It's comedic in it's volume.
But before you ran outside the loos and called to your friend "OH MY GOD! You should hear the noise in there!!! I wouldn't go in if I was you!!!!" Perhaps you could have noted my daughter who was waiting outside with our trolley because her mum had had to leave her stranded to run to the toilet. Perhaps you could have stopped and heard me sobbing with pain because the acid in my stools has no way to be neutralised because I don't have a large intestine and so opening my bowels actually burns my skin.
Perhaps you both could have shown a little empathy, a little compassion, a little understanding.
Have you faced barriers to using accessible toilets? Let us know what has happened and how you dealt with it.
Scope
Senior online community officer
Comments
Brightness
Categories
12K

Talk about your situation

21.2K

Talk about money

4K

Talk about your impairment