Home
›
Scope's online community
Guest blogs
Is Mainstream Education Doing the Best for Disabled Pupils?
Ram
Member
Posts: 40
Pioneering
I suspect that most people would consider me to be a bit of a poster girl for disabled people being educated in mainstream schools. They might think that it must have been a positive, enjoyable time, or why else would I have chosen to spend an extra twenty-five years there? I am intensely grateful for my schooling, believe passionately that disabled children should never have to compromise on the quality of their education and can, without hesitation, say that I love teaching, but my experience also tells me that things could, undoubtedly, be improved.
I reckon that most disabled adults, if disabled as children, will have a list of bad education-related stories (many of which the 'system' would say should 'never happen'). Mine include (in no particular order) careless teacher comments: 'I have a bad leg too and I can carry a desk down some stairs, why can't you?', 'You can't be a journalist; how would you push your way to the front of a crowd?', poor decisions: having to spend primary playtimes on my own in a classroom and secondary PE lessons writing essays in the changing room because of 'health and safety' and the downright dangerous: being expected to negotiate the school site in ice and snow and finishing my finals covered in grazes and bruises from falls because the time spent sitting, temporarily, stole my coordination and balance.
I'd like to think that things are very different in 2019 and it does seem that, in theory at least, more support exists. I was educated in an era before teaching assistants, individual educational plans, extra time in exams or differentiated learning, but I don't feel confident that these things work as they should, they are definitely increasingly poorly-funded and they don't get to the real crux of the issue, which is that the lives of disabled people are so poorly understood by society.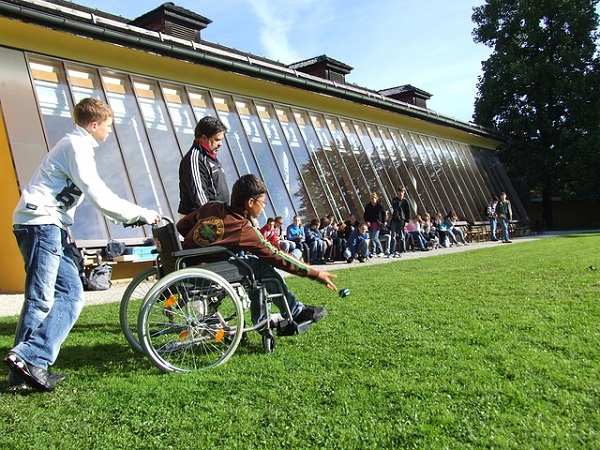 When a non-disabled person thinks about 'reasonable adjustments' it is usually equipment that comes to mind, maybe, at a pinch, changes to the built environment and, of course, these are important. They often arrive in school in a flurry of excitement 'Well done us, we've installed the lift, painted lines on the edges of steps, got your special seat/laptop/software'. What often isn't considered is how essential it is that they are always working and available for the individual to access, that it is as easy as possible for them to do so and that they should have been consulted at every stage of the planning process because how somebody feels about their adjustments is every bit as important as the things themselves. There is also hardly any time given to understanding how life as a disabled person differs from that of a non-disabled one. For a start, if there were, rewards for 100% attendance and complicated rules about toilet use would vanish overnight. I happen to think that they aren't good for anyone but they disproportionately impact negatively on disabled pupils.
If you are a non-disabled pupil you can, fairly confidently, rely on your education to prepare you for adulthood. It may do it a little clumsily, a week of slightly dull work experience, embarrassing PSHCE lessons or bits of subjects that you are certain that you will never need in the future, but it at least tries and does so from a position of knowledge. Disabled pupils rarely have this luxury.
If I were to list what I think they will need it would go something like this:
1.    Communication skills (in all their forms) that are as good as they can possibly be (they will have to constantly explain their situation, justify their needs, fight their corner. I should, perhaps, also add here that the current English Language GCSE has sidelined spoken skills)
2.    Resilience so they can cope with being misunderstood, the many barriers there will be, the inevitable disappointments and the physical changes they may face as time passes
3.    Self-confidence so that they won't listen to people who know less than they do about their life and how they should live it
4.    An understanding that they are a member of a discriminated against minority and how the law tries to protect them
5.    And they need to learn these things in a place that doesn't focus on what they can't do but which also doesn't peddle the popular lie that 'Anything is possible if you try hard enough'
What I want to say to teachers is that their disabled pupils need their education even more than their non-disabled ones. Jobs will be harder to get, homes tougher to find, life will be more expensive. I want them to understand that, unlike other minorities, disabled children are often not part of a community that can support them and give them strategies for negotiating everyday challenges. A mainstream setting will never be the best choice for every child but, if schools are serious about inclusion, they need to listen more, be prepared to learn, and do better.
What would you change about the education system to better prepare disabled children for the wider world? As a disabled child, or parent/carer of a disabled child, what are some of your experiences of education?