I gained more than a degree when I went to university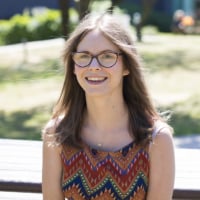 Chloe is 21 years old, and last week she graduated with a BSc in Psychology and Child Development. She has mild cerebral palsy, amplified musculoskeletal pain disorder and became registered as partially sighted during the second year of her degree.
When I started university, I knew my experiences would differ from my peers. I never saw this as a bad thing, yet certain things in the lead up to me starting weren't quite the same as everyone else. Due to my own needs, moving away to university wouldn't have been possible without the support of Personal Assistants (PAs) and this is something I found daunting and exciting.
Prior to university I had relied on family and friends to get from one place to another and to ensure I was safe while out in public. I cannot thank them enough for doing this, yet I couldn't help but feel a bit in the way or like I was a hassle. It also quickly became apparent that I had little spontaneity as it very much depended on whether friends wanted to go shopping or to the cinema. I hoped a PA would give me a level of freedom and the chance to do the things I wanted to, and they did!
However, when people were getting to know their flatmates, I was also getting to know this stranger who now arrived at my bedroom door at 8am every day. I was learning how this professional but intimate relationship would work, and they were learning what my needs were. It worked out really well, but initially it did take a lot of getting used to. Having a PA enabled me attend events, get to lectures in one piece and be there during high pain days.
I was well into my first year of university. Lectures were going well; I had really supportive lecturers and I was loving the course I'd chosen to study. Things were settled with the two PAs I had and the whole thing was working! University, socialising and independence. It was all I wanted from the experience.
Then I started to notice a change in my vision. I could no longer see what was projected in lectures and my peripheral vision quickly reduced. I wore glasses but they suddenly didn't help. After various tests, a few months of going backwards and forwards to the hospital, they came to a conclusion. My glasses now only minimally corrected my sight, I was registered as partially sighted and was on a waiting list to learn how to use a long cane.
Everything that was once settled, needed to undergo a process of adjustment ⁠—one that still continues to this day.
To an outsider's perspective, it was as if I'd gone blind over the summer as I began my second year using a long white cane. I feared a lack of understanding and judgment as I appreciate it is not the easiest thing for you to get your head around, for myself included! I now had to learn how to do things, but also how I now needed to be supported. With my sight declining rapidly during my second year, it also started to impact on my studies. Things that had always taken me longer than my peers would now take even longer than before.
It was at this point I had to get support. I began to take the extensions when I needed them and had to do my best to rest my eyes when I wasn't working. Which is easier said than done when you use your vision for everything! Yet I also wanted to be more involved, so I ran in the student election to be the Disabilities Officer. To my absolute amazement, I was elected and started my final year of university with this new role.
It was probably the craziest, but best decision I made. With the chance to run awareness sessions, stalls and campaign for things like assistive technology it made my final year a one to remember. It was a chance to leave my mark on the university before I left and to be able to share my passion around disability rights. Some of the things I did went down like a lead balloon, but some things really did work!
I graduated last week with a BSc in Psychology and Child Development. Yet I also graduated being a completely different person. I'm more confident in my abilities and now know that independence is possible. I graduate having shared the things I am passionate about. To be more open about accessing support, because I didn't have to do to it by myself.
It's been such a rocky but rewarding three years of my life. I know the experience of my peers will have been different, but that's okay.
How was your university experience? Did you learn anything new about yourself? Let us know in the comments below!
Scope


Comments
Brightness
Categories
12K

Talk about your situation

21.2K

Talk about money

4K

Talk about your impairment