Home
›
Scope's online community
Coffee lounge
Cars and driving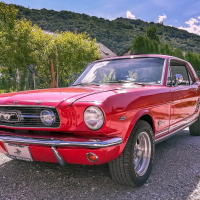 66Mustang
Community Co-Production Group
Posts: 5,103
Disability Gamechanger
I'm just lazily regurgitating another topic I made in the past as I'm keen to see what the current regulars have to share!
This thread is about cars and driving. Please share any interesting car or driving related stories you have...
Or maybe share something like what your dream car is! (Mine is a Ford Mustang but I am aware they are very impractical in the UK so here I think I would choose a Lotus Elise.)
Driving is probably my biggest passion and I love doing it. I go out for a drive every day if I can, with a family member. Whenever someone needs to go somewhere I will offer to drive them (as long as it's not too far and involving dual carriageways/motorways!). I have also driven modern sports cars and classic cars on race tracks in the past. However I am no "driving god", I am actually quite a nervous driver and am especially not good at reversing!! Once Covid is over I am actually thinking about paying for a couple of driving lessons to focus on parking, I'm that bad
.
I do appreciate not everyone is lucky enough to be able to drive and by making this thread I don't intend to cause any offence to anyone who is not able to do so.
I'm looking forward to hearing your thoughts.