If we become concerned about you or anyone else while using one of our services, we will act in line with our safeguarding policy and procedures. This may involve sharing this information with relevant authorities to ensure we comply with our policies and legal obligations.
Find out how to let us know if you're
concerned about another member's safety.
Inaccessibility, ignorance and lack of compassion – my experience at A&E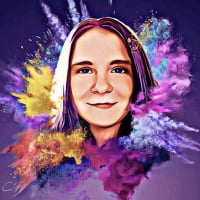 Ami2301
Community member
Posts: 7,942
Disability Gamechanger
In this guest blog, @Ami2301 revisits a worrying trip to A&E during early pregnancy and tells us how the visit highlighted flaws in accessibility and compassion for disabled mums-to-be.
My name is Ami, I'm 26 and have a three-month old daughter. I have Sensory Ataxia, Transverse Myelitis, hearing loss, central vision loss and Mitochondrial Disease. I'm also the blogger at
Undercover Superhero
. 
Seeing our baby for the first time
We were on our way to hospital to have our first scan and I was so excited but also incredibly anxious. Many 'what ifs' were racing around in my head. After what my body had endured a few years ago, we believed that I couldn't become pregnant, or that my body just couldn't handle being pregnant. I really need to stop underestimating what my body was capable of.


As we approached the maternity department, it felt very surreal to be sitting socially distanced amongst the other pregnant women and I felt very thankful that I was one of them. Although, I was struck with guilt as my husband was with me due to my transfer and communication needs, and all the other women didn't have their partners or loved one with them due to the pandemic. Despite it being out of my control, I felt very guilty.


As soon as the sonographer placed the scan device on my stomach, our little baby appeared and was already waving. The monitor was brought closer to me to enable me to see a bit clearer. It was truly wonderful to see and we were absolutely besotted. Ewan (my husband) relayed what the sonographer had said, and I was over the moon to be told that our baby had a strong heartbeat and that all looked well. We found out that I was exactly 13 weeks. 


Was it all too good to be true?
Two days later, Ewan helped me transfer onto the toilet, and I burst into tears as I discovered there was a lot of blood. I didn't have to say anything, I just turned to Ewan with tears running down my face and he instantly knew. He reacted quickly, cleaning me and helping me onto our bed. Then within seconds, he phoned the helpline number explaining what we'd just found.


Ewan was told that as I was only 13 weeks, the best thing to do was to see how I was overnight and if I was still bleeding in the morning then I should try and be seen by a midwife. As devastating as it is, knowing that 13 weeks isn't considered a viable milestone during pregnancy, I thought I surely should have been checked as soon as possible? Did they really expect us to sleep, believing we could be losing our baby?


We weren't going to wait until morning and my mum drove us to A&E, where we arrived just before midnight. We waited an hour before we were seen and although I had no pain, the bleeding was frightening. The first nurse took my details, and her assistant checked my blood pressure and observations.  At this point everything was fine. But it was when the assistant wanted to take blood that the lack of compassion and understanding began.


I felt so embarrassed.
When the assistant was on the third vial and could clearly see I was beginning to faint, she frantically waved her hand in front of my face to distract me which made me feel dizzier. She then started clicking her fingers and pointing to the vials. I could see five vials and she was still taking more, then she began putting a cannula into my hand. 
When she went to get Ewan from the waiting room, I realised the door had been open the entire time which meant other people would have seen me slowly passing out. I felt so embarrassed. Ewan could tell by my facial expression that I wasn't happy with how I'd been treated, but before he could say anything, he was given a bottle for me to do a urine sample in and was told to sit back in the waiting room when I'd finished.


Still feeling weak, they expected me to transfer with my walking frame having nearly fainted just minutes before. I need to use both hands to be able to transfer safely and I refused to attempt transferring with only one free hand. However, the assistant couldn't understand why I couldn't walk with my frame, despite being present when we explained about my disabilities.


Ewan explained five times that I couldn't transfer with one hand before the nurse overheard and told the assistant to remove the cannula. We asked if a hoist was available and were told "no", even without asking another member of staff. This still concerns me now - that if I were to visit A&E again and required a hoist, they wouldn't agree to asking if one was available or even ask another department.


Following this, I very wobbly managed to get a urine sample, then we returned to the waiting room. We were called back in and a doctor saw us. I was about to get my sample out of my bag when the doctor told Ewan that it was too late to send it off for testing. Annoyed is not the word.


How long have you been in a wheelchair?
The doctor sat slouched in his chair saying that my results were fine. As someone with various disabilities, I needed to know what I was tested for and what the result indicated as opposed to just 'fine' or 'normal'. Yet he just kept saying that everything was fine. He asked routine questions about pain or discomfort, how did I feel, when did the bleeding begin, etc. Then came the irrelevant questions which I strongly felt like he was wasting our time with.


"How long have you been in a wheelchair? How does your hearing/sight loss affect you? What can or can't you do?" I sat there perplexed as Ewan relayed the questions to me. How were these questions relevant to my bleeding? The doctor told Ewan that he didn't know what to suggest. It was us who prompted him to ask if we could have a scan or our baby's heartbeat checked at least. Surely things couldn't get any worse?


Ignorance and lack of compassion
After another hour in the waiting room, it was now past 4am and a porter came to take us to the maternity ward. Once we were told to go into a side room, I transferred onto a bed. Ewan made sure I was okay before heading to the toilet. While he was out, a doctor came in the room wearing personal protective equipment. I could tell he was trying to talk to me as his mask was moving. 


I said I have hearing loss and my husband will help by relaying what he had said. The doctor started reading my notes and seconds later, Ewan came back. I was told that the doctor was still trying to talk to me despite having said I have hearing loss. Ewan sat next to me and was listening to the doctor. The same routine questions were asked, and we then asked if I would be having a scan or if baby's heartbeat would be checked. "No, there isn't any equipment available and the first available appointment to have a scan would be in 2 weeks' time." Bear in mind, there was a scan machine right next to my bed. We were lost for words. 
Instead, my cervix would be examined. all we got told was if my cervix was still closed then there is a high chance that baby is fine. For first time parents-to-be, we didn't know if this was routine. Not just the examination, but how we were spoken to and the lack of information. Thankfully, the opening of my cervix was still closed. I'll never forget how much this doctor lacked compassion and what he said next left me feeling utterly worthless.


"Your cervix is closed, so you can go home now." With that, he left, and we never saw him again. Ewan and I looked at each other in shock, disbelief and frustration. A nurse came in and Ewan kept asking why everything wasn't checked. The nurse just shrugged. All the while, I sat there staring at the scan machine. Was I overreacting?


Finally, an answer
It was my midwife who spoke to Ewan on the phone and reassured us, by explaining what my blood tests showed, and gave us more answers than we got from hospital. She was appalled by how we were treated and agreed with us that baby's heartbeat should have been checked, at the least.

I went on to have a smooth pregnancy, despite pelvic girdle pain in the third trimester, and now have a happy and healthy three-month old daughter. Every hospital needs to be accessible. Full stop.
Your thoughts
We really appreciate Ami sharing such a sensitive memory with us and thank her for her continued work around raising awareness of disablement. We agree that hospitals should be accessible to all and in amplifying our community's voices hope to draw attention to where services can be improved.


Following reading this blog, we wondered:

• Do you have anything to say to Ami?
• Does Ami's story resonate with anything you've experienced during a medical emergency?
• What other barriers to accessibility have you come against during hospital visits?  


Let us know in the comments below
Disability Gamechanger - 2019
Comments
Brightness
Categories
9.2K

Talk about your situation

30.4K

Talk about money

6.2K

Talk about your impairment