The progress of education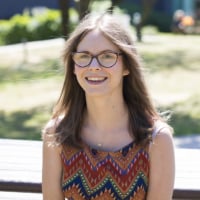 My name is Chloe Tear, I am 20 years old and am about to start my final year at university. In my free time I love to write a blog, take photos and cannot seem to resist a coffee catch up. However, education has always been something that I have had to work really hard at. I have mild cerebral palsy, chronic pain and I'm partially sighted due to visual cortex disorder.
When I started primary school, it was clear that I found it incredibly difficult at times. Academically maths has never been my best subject. I have always struggled to understand the most basic concepts. Despite still not knowing my times tables or being able to tell the time properly- I got a B at GCSE. I remember my Year 4 teacher telling me that times tables were fundamental to life. That I would never get anywhere if I didn't just try that bit harder and learn them. However, he didn't realise I have my own set of fundamentals. When you live with cerebral palsy it can be so hard to be sucked into the 'normal' timeline of events that should happen in life. We sometimes need to take a step back. I have found my own path that doesn't have success that is comparable, but success that is just as valid.
At high school I continued to work a lot harder than my peers to achieve similar results. I found it hard to keep up with the amount of work and handwriting notes quickly became not possible. However, all these things were overcome. I started taking notes on an iPad and put in those extra hours because I wanted to succeed. I still couldn't tell the time but could get an A in English. I found my own way to remember information and was able to access the support that I needed at the time. Due to higher levels of pain and fatigue I started to use a wheelchair on a part time basis at the age of 15. I could manage to walk around all day, but this meant that I probably had lower levels of concentration in the classroom, it all was a balancing act to get it to work. However, it didn't mean it was all impossible.
But where is my educational journey at the moment? Heading into primary school is a big jump, so is high school. My advice would be to focus on the now as much as possible and try not worry about hurdles that lay in the future. However, here is a very real possibility. I am studying psychology and child development, on track to graduate with a 2:1. I love the course I am studying, despite wanting to now pursue a career in journalism, but that doesn't make me value my degree any less.
When I started university, I moved into halls with 9 strangers, started employing a PA and no longer was around people who knew exactly how to support me! It felt like such a huge step. I was so used to being able to get through the day and then crash from pain and exhaustion when I got home. However, when you live with your friends that is not as easy. I have learnt to step back when I need to, even if I don't always get it right- which results in my PA suggesting that it is time for a lie down.  
Yet university has opened up the world of work. Over the last two years I have taken part in two placements, one in the SEN department of a mainstream school and one working for RNIB on campaigns for people who are blind and partially sighted. I have always worried a little about how I would be able to get a job, not only that, would anyone employ me in the first place! The answer is yes! Slowly, but surely, things are falling into place. Hurdles that seemed so big when they were in the distance are being overcome. So, no matter what stage you or your child are at, it somehow works- just not always how you'd imagine it. If I hadn't been registered as partially sighted, then I probably wouldn't have had connections with RNIB to get a placement. Yet that experience is so relevant in terms of my future career.
What hurdles have you overcome throughout education? Has your educational path differed from peers because of your disability? Share this with the community!
Scope


Comments
Brightness
Categories
11.6K

Talk about your situation

19.8K

Talk about money

3.7K

Talk about your impairment