Home
›
Scope's online community
Guest blogs
Rebecca Legon: My holiday in Cadiz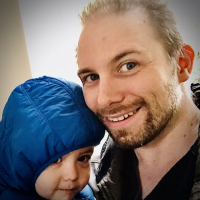 Adrian_Scope
Testing team
Posts: 8,075
Scope community team
Rebecca is a brand ambassador, model and TV presenter. She shares with us her holiday experience in Cadiz, Spain.
Cadiz. The historical port with narrow winding streets, amazing tapas and beautiful sandy beaches. What more could I ask of a city break?
Hello, I'm Rebecca Legon. Yes, that's my name. Very funny seeing as I only have one leg isn't it? I was born with a rare limb deformity and to be fitted with a prosthetic leg correctly, I had an amputation at eight years old.
I am delighted to have been asked to write for Scope's online community to help raise awareness for disabled travel. This topic couldn't have suited me more.  I absolutely love travelling! I have never let my disability hold me back and I spent the duration of my twenties, backpacking around Australia and America. Also, I am extremely excited to be taking my children (Olive 4, Arthur 1) to Bali and Thailand this summer.
So, I have just returned from visiting friends in Spain. It was a family affair, we are an impressive group of seven, including my two stepchildren (Frank 13, Elfie 11) and our Spanish au-pair.
Our destination was the historical port of Cadiz, which is in the Andalucia region of southwestern Spain. It was founded by the Phoenicians who named it Gadir and its one of Europe's most ancient cities, with archaeological remains dating back to 3100 B.C. Cadiz is a very popular holiday destination for the Spanish. As well, as being a city break, it also benefits from endless, blue flag sandy beaches. Thankfully, it hasn't been hit by mass tourism and remains 'traditionally Spanish'. The spectacular Golden Dome of the Cathedral can be seen for miles amongst beautiful coastline with whitewashed houses, that sparkle in the sun with an African influence.
Our apartment was overlooking Plaza de Topete. A superb and central location just around the corner from the famous food market In Liberty square, (renowned for its extravagant fish stalls).  Our balcony adorned a beautiful city view. The perfect spot to sit with a glass of bubbly, people watch and catch the Flamenco dancers. Every morning the children would run down in excitement to the market stands for their daily fix of the famous Churros. Rick Stein is a fan of Cadiz and he said in his Long Weekends TV show, "Nobody cooks seafood like the Spanish!" And, I can certainly agree with him. If you are the ultimate foodie (like me), you will love this city. With countless traditional restaurants serving perfectly cooked tapas dishes, from as little as €3.  I especially recommend La Tapería de Columela. However, I would arrive early as this restaurant is so popular, it doesn't take bookings.
Another love of mine was to stroll through picturesque, narrow-winding streets, that easily navigate around many historical buildings such as; the Cathedral of the Santa Cruz, the Falla Theater and Caleta Beach - which is set between two beautiful fortresses (Castillo de San Sebastián and Castillo de Santa Catalalina).
I found Cadiz to be fairly disabled friendly, accessible and extremely easy to get around without public transport. However, if you would like to go and enjoy the best sandy beaches (Cortadura, Victoria, and Santa María del Mar), these are in the modern part of the city, which I would take a taxi or bus (no7). This superb coastline stretches over 7.2 kilometres of sandy, blue flag beaches, with many beachfront restaurants. We especially enjoyed El Potito restaurant, which is located at Victoria beach. This is where we spent our final day at our table on the sand, watching the children play in the sea, whilst eating freshly grilled seafood, and divine tapas. So, Cadiz, I love you and we will definitely be back again soon!
You can find out more about Rebecca's work and her journey on her website and on Instagram and Facebook.
Have you been on a holiday that was accessible for you and your family, if so where? Also, where is your dream holiday destination?