Home
›
Scope's online community
Guest blogs
The therapeutic benefits of horses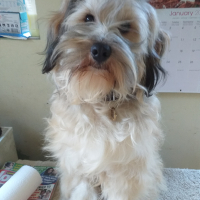 Franstrahan
Member
Posts: 898
Pioneering
I'm Fran and I found out I had ASD last year. My autism diagnostic centre sent me a leaflet about horses helping people with ASD, since then it's become something I love to do!

Why horses?
I never had much to do with horses. There was a home for retired horses close to us when I was a child that I used to visit regularly. There also was a church outing to go and ride a horse. I got Catlow, an ex-showjumper and it was a bit like a donkey ride at the beach, but that was it. I'm an animal lover and used to work as a pet carer. I also have looked after smallholdings with sheep, pigs, flocks of geese, ducks, chickens, but never a horse. So, when this leaflet arrived from my autism diagnostic centre about fully-funded sessions working with horses for people with ASD I knew I had to go!
It's called EAL or Equine Assisted Learning and is often referred to as horse therapy. Apparently, horses are very sensitive creatures due to being prey animals in the past, they pick up on your mood and emotions quickly. This makes them ideal for working with adults and children with ASD, ADHD, depression, anxiety and stress. The idea is to control your mood so the horse will respond to you.
The benefits of horses
The horse will actually encourage the handler to respond positively to them as they will react negatively to a disrespectful handler. The horse's response helps the handler to realise how others see them and how they respond to their behaviour. It encourages the handler to modify any negative behaviour patterns. However, horses will not judge you, or criticise you like a person could. Therefore, the horse will gently teach a person to calm down their responses, with this being something I need to work on. Having control over a large animal like a horse will boost your confidence and working in unison with them will help develop social skills.
Also, the horses work with people in the early stages of dementia and their carers. During the summer months the centres two little Dartmoor ponies visit local care homes so the residents can pet and groom them. The horses just lift your mood and have a positive, calming effect on you.
My experience of Equine Assisted Learning
My experience, after just 3 hourly sessions has been amazing! I have stroked, groomed, led through an obstacle course, cuddled and kissed horses! Over the course of my last two visits, I was really stressed, and nearly cancelled my second visit. Yet I thought seeing them and being around horses just might help calm me down. I'm pleased to report that it did! I love them and going there is the highlight of my week.
The centre has a large barn for winter and bad weather sessions, as well as an outdoor arena and the fields for spring and summer. With them of course having a stable yard.
As I progress, I will get to spend longer there and get more involved in the general work as well as the fun things. This will involve mucking out and preparing their food. In the summer we will be out in the fields. I will learn how to put the headgear on a horse, then attach two long reins and guide them round the field. A bit like carriage riding without the carriage! It's good exercise for the horse and a great experience for me. In the meantime, I still very much have my 'L' plates on.
 Do you know anyone or any group that would benefit from spending time with the therapy horses? Want some info on this centre? Need help finding a centre near you? Let us know in the comments below!