Martyn Sibley - Adventures for All, Accessible travel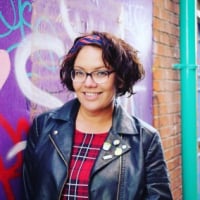 Sam_Alumni
Scope alumni
Posts: 7,682
Disability Gamechanger
A few weeks ago I attended the NAIDEX disability event and I was thrilled to go and listen to a talk by
Martyn Sibley called Adventure for All
.  I was looking forward to his talk after my travels last year to India, I went to my family's home town and had to use a wheelchair whilst I was away as I was recovering from major surgery. It was a scary thought to go travelling in a wheelchair, I had no idea what the accessibility would be like over there and how I would cope.  It wasn't the easiest trip in the world but it was amazing and I am so glad that I didn't let my fear put me off such an amazing adventure.
"My name is Martyn Sibley. I am a regular guy who happens to have a disability called 
Spinal Muscular Atrophy
 (SMA). This means I cannot walk, lift anything heavier than a book or shower myself. Nonetheless I run 
Disability Horizons
, am the author of '
Everything is Possible
', I have a Degree in Economics & a Masters in Marketing, I love travel, I have great people in my life, I drive my own adapted car, run my own business, have 
flown a plane
, 
SCUBA dived
, and I live independently on earth."
So that is @martynsibley , his talk was called Adventures for All and was about his experiences of adventures all over the world and how he made it happen, from scuba diving to husky dog sleighing, I left the talk completely jealous and full of wanderlust and so I thought I would share his story.
Scuba Diving in Tenerife
Martyn spoke about the challenges of just getting into a wetsuit as well as the stress and worry about actually getting in the water.  He said it was a magical experience to be diving in the open sea and something he never thought he would do.  He highly recommended the Mar Y Sol hotel as an extremely accessible place to stay.
Hot Air Balloon ride in Catalonia
Martyn spoke about how the accessibility wasn't great for
the hot air balloon
and he had to be lifted into the basket, this wasn't ideal but it did enable him to have the experience. "Sometimes you need to step out of your comfort zone" he said. 
Tree Climbing and Abseiling
Being hoisted up a tree in a power chair and abseiling may not be everyone's idea of fun, but Martyn proved that both are doable and can be accessible to wheelchair users.  Martyn spoke about the expertise of the staff who make it what it is.  You can watch his and
@SrinMadipalli
adventuring at
the Calvert Trust in this video.
Skiing in La Molina
Martyn's skiing trip inspired me to actually look into a bit of winter sports, something I have considered for a while but put off.  He used a ski chair and they had a raised chair that allowed him to use the lifts and gondolas with the support of the staff.
"Professionals are empathetic and tuned in to your feelings so you feel you can take a leap of faith" Martyn said which really made me think about how training staff in inclusivity is so important in travel and leisure.
Husky dog sleighing in Finland
Running around a track pulled by dogs in -32 degree snowy weather doesn't automatically come to mind when you think about holidays for a person who uses a power chair.  It doesn't come to mind for most people to be honest, bu
t Martyn's description of this wonderful experience sounds amazing
. 
"I was lifted into the sledge. Kasia had to sit behind me and support my balance. We travelled 1km with these beautiful husky dogs pulling us through this magical scenery."
I left the talk feeling totally inspired, not because Martyn is a wheelchair user, but because he has had such amazing experiences.  It made me wonder why the majority of travel reporting on mainstream TV is done by non-disabled people, if we saw more disabled people in these type of roles then it could help to end the awkward around travel and encourage more people to get out there and enjoy the world.  
In these times of austerity, with the difficulty of getting into work as a disabled person and the government cuts to benefits, I know that some people may read about Martyn's adventures and feel that these things aren't available to them, but I still think it is so important to see disabled people accessing travel and adventure.  Non-disabled people who are struggling with work and money may feel the same about every other travel blogger, but we don't complain about them.
Martyn said "Travel for me is about culture and enjoyment. Adventure and setting personal goals is a human right despite any limitations, with planning, you can achieve your goals." and I for one agree, we all have difficulties in our lives and perhaps sometimes we need to alter our expectations, but we can all have experiences that bring us adventure and joy. 
What are your thoughts on adventuring? What exciting experiences have you had? Do you have any tips on accessible travel and adventures?
Scope
Senior online community officer
Comments
Brightness
Categories
11.6K

Talk about your situation

19.9K

Talk about money

3.8K

Talk about your impairment