Top seven travel tips for accessible travel

Srin Madipalli is the disabled entrepreneur and CEO at Accomable, the leading booking platform for accessible hotel room and holiday homes with more than 1000 accessible hotel rooms and holiday homes available to book online. As an avid traveller, Srin shares his top travel tips.

Researching the destination
Before travelling, I always spend some time Googling destinations to see what accessibility is like. Accessibility can vary greatly from place to place. Countries with more developed infrastructure are usually easier; and will often have legislation in place requiring accessibility. I'm a powered wheelchair user unable to independently transfer, so it's really important that I can find plenty of step-free access to buildings and wheelchair accessible transport options that are affordable. Unfortunately, it's still difficult to find a one stop source of information. However, I helped create a Facebook Group called the Accessible Travel Club, a very active community of travellers with accessibility needs from all around the world. 
Knowing what equipment you need
When travelling, I need a portable hoist (MoLift Smart) and my travel shower chair (Borringia Chameleon). I also usually take my travel ramps (Bentley Fielden Travel Ramp) that can fit on the back of my wheelchair. Finally, if I'm flying, I also take a Promove sling with me to make it easier for the assistance staff at the airport to safely transfer me.
Finding the right accommodation
Accessibility and location are the two main things I always look for. I need rooms with a roll-in shower that have space under the bed for my hoist. I helped create Accomable to make this search easier. Where possible, I love to stay in self-catering apartments – for example, my favourite place in Barcelona is this accessible apartment.
Depending on the transport situation and whether public transport is accessible, I also try to find places that are nearer to the city centre. However, this is not always practical (or affordable!), but it is ideal if I can just roll around everywhere I need to go in my wheelchair.
Don't fancy a big trip? Try a staycation first
At Accomable we often speak with people who are nervous about travel because they're unsure of how easy it will be to get around a new country; or that they don't trust how accessible their accommodation will be. I can completely understand this as someone who would regularly arrive at holiday accommodation only to find steps to the front door! It's one of the main reasons I started Accomable. If this is you, my advice would be to take things slowly at first. Maybe a relaxing weekend in the countryside that's only a short drive away? There are some brilliant accessible stays across the UK, whatever your tastes, from an eco-cottage in the Shropshire Hills to a designer pad in Wiltshire to accessible glamping in Devon.
Get into flight mode for a stress-free journey
Let your airline know that you have a disability when you make the booking, and tell them if you will be travelling with a wheelchair or any other mobility equipment. This will most likely need to be stowed in the cargo, so double check if this will count as part of your luggage allowance (and if not, what the additional charges would be). 
I also always let the airline know as far in in advance as possible that I need special assistance to get to and board the flight. The airport should always be able to supply a wheelchair and a trained person(s) to help you check in and board your flight on time and comfortably. I also remind the assistants at the check-in desk that I have booked special assistance for my trip.
If you are unable to independently transfer, you will need to be lifted from your wheelchair onto a narrow aisle chair. Once on the aisle chair, you are then moved onto the plane, where another manual lift is needed to transfer onto the seat.
As mentioned, sitting in a Promove sling does make this easier.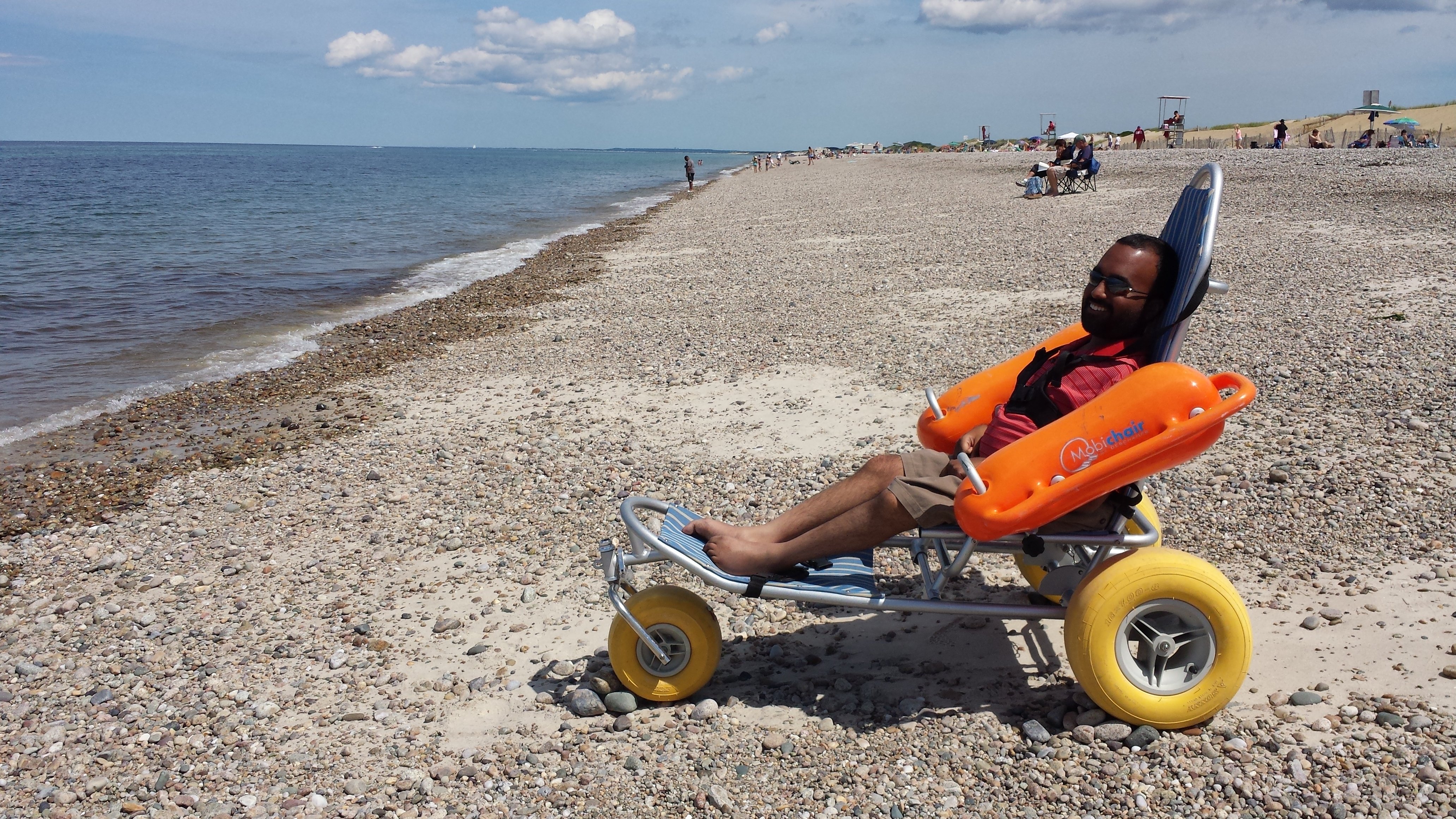 Follow an accessible travel blog
Before you book, check the local tourism board website for information on wheelchair-friendly public transport (most major cities, particularly in Europe and Australia/New Zealand, should be good on this front), facilities and activities. There have been huge improvements to public infrastructure for people with mobility issues in the past 10 years making sightseeing easier and much more fun.
You could also check to see if any disabled travel bloggers have been there and what tips they give. Two that I recommend are Curb Free with Cory Lee and Have Wheelchair Will Travel.
Many will write guides on destinations, and their favourite accessible restaurants and sights. These blogs can really bring a destination alive, and make you feel more confident making a trip there.   
And remember, don't forget the awesome Accessible Travel Club!
Enjoy yourself!
Look forward to your trip, discover a new culture, relax, visit a world famous site, see family, treat yourself - have a wonderful time!
Discover more than 1,000 fully verified accessible hotel rooms and holiday homes at Accomable – visit www.accomable.com or call 0203 409 6773
What are your holiday tips? What would make your travel easier? Let us know your good and bad experiences.
Comments
Brightness
Categories
12K

Talk about your situation

21.2K

Talk about money

4K

Talk about your impairment